MAIN LODGE
For those of you who are wanting to take advantage of our Lodge Rooms,
the Main Lodge offers a place to meet and enjoy home cooked meals and truly relax and enjoy.

All of our Main Lodge rooms are individually equipped with heat and air
and each offer private 3pc or 4pc bathrooms, blowdryers and satellite TV.

Free High Speed Internet for Main Lodge Guests, Fine Dining, Beautiful Scenery.
Pets are not permitted in the Main Lodge Rooms.


A Sauna and 6 person Indoor Hot Tub is available year round, also the addition of a King Jacuzzi Suite and a outdoor seasonal hot tub.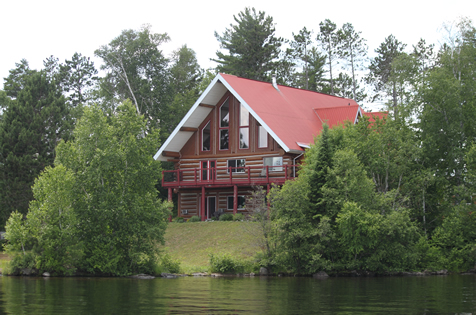 Plenty of Lake for those who have their own boats to enjoy waterskiing, tubing or fishing.
Boat launch on-site.

Lake Kipawa offers incredible boating around it's 1,200 miles of pristine shoreline,
offering just under 1000 Islands; some of the most beautiful anywhere!

A canoe and paddle boat are available at the lodge for our on-site guests, free of charge.

Guests can also take a ten minute walk to Miwapanee Lake where you can catch
Speckled Trout from the shore.

Stay ashore for a relaxing soak in our hot tub or just curl and lose yourself in your favorite book.

Enjoy our 8 person outdoor hot tub available seasonally.